This weekend, I travelled to Wakefield to see Human Landscapes,  the first UK retrospective of the work of the much-overlooked Polish artist Alina Szapocznikow (1926–1973). Powerful, innovative, disturbing, these pieces have dark undertones, which isn't surprising when you discover that Szapocznikow survived several of the Nazi camps as a teenager, and bouts of severe illness. Her sculptures were born out of trauma, expressing it obliquely for those who could not, while at the same time being an extraordinary affirmation and expression of life and female experience.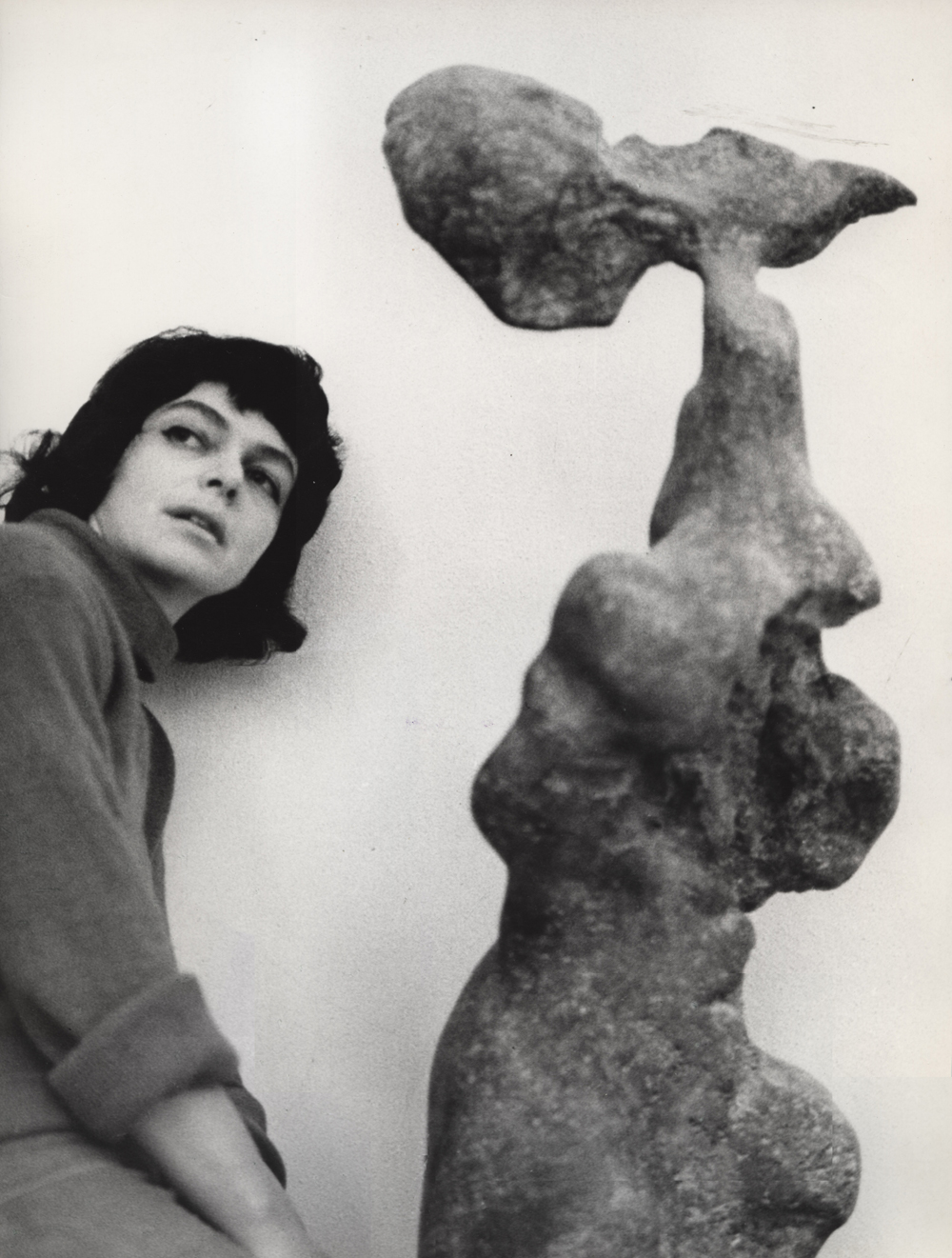 She emerged as an artist from the Soviet sanctioning in 1950s Prague, educated originally as a classical sculptor in Paris, rapidly moving into semi-abstract, amorphous forms: huge, organic sculptures,  such as 'Bird' and 'Maria Magdalena'. Later, she began using her own body, and that of friends to make casts of body parts, including a particularly poignant full body cast of Pietr, her son. Long haired and naked he lies at a diagonal, suspended in space, recalling the dead Christ in Mary's arms.
Semi-abstract sculptures from bronze, concrete and iron.
Through casts of the human body, I attempt to preserve in translucent polystyrene the ephemeral moments of life, its paradoxes and its absurdity. (…) I am convinced that among all manifestations of impermanence, the human body is the most fragile. It is the sole source of all joy, all pain and all truth, and this thanks to its ontological poverty, which is as inevitable as it is (at the conscious level) absolutely unacceptable.
Photographs set in polyester resin
Her work centres around the fragmented body; like many post-war artists, she has an acute awareness of the fragility of the body. Bowls of breasts recall Lee Miller's critique of female objectification in Severed Breast from Radical Mastectomy, the 1930 photograph she composed after observing a friend's mastectomy. I was also reminded of the work of Eva Hesse, known for her pioneering work in materials such as latex, fiberglass, and plastics. Dynamic but mysterious erotic themes are an element shared with Louise Bourgeois for example in her Unconscious Landscape, 1967-68.
"Dessert III", 1971, dyed polyester, porcelain vase.
Drawings and monotypes.
Sculptures using polyester resin and polyurethane.
The essence of Szapoczikow's work seemed to lie in the search for completeness that she could only express through fragmentation and abstract juxtapositions. Her feeling that: "The fleeting moment, the trivial moment – these are the only symbols of our earthly existence".
In the final room of the show, we see at close quarters Szapocznikow's sculptural manifestations of her body's invasion by cancerous tumours. Even in her final months, she continued to find innovative ways to express the reality of her experiences. "Recalling the broken statuary of fallen civilisations, Tumours Personified (1971) is the artist's attempt to own the illness, with a scattering of head-size lumps, bearing her own face." – Skye Sherwin
I produce awkward objects. This absurd and compulsive mania proves the existence of an unknown, secret gland, necessary for life. Yes, this mania can be reduced to a single gesture within reach of us all. But this gesture is sufficient unto itself , it is the confirmation of our human presence.

My work is difficult as sensation that is felt in a very immediate and diffuse way is often resistant to identification. Often everything is all mixed up, the situation is ambiguous, and sensory limits are erased.

Nothing is definitive in my work. If not the immediate pleasure of feeling the material, of touching and palpating the distinct material of the mud as children do on a riverbank.

_ Alina Szapocnikow, 1972